SpareRoom
Mobile App Solution For Flatsharing
Reading Time: 6 minutes
First group-project as part of the UX Design Immersive course at General Assembly London. My team was tasked with the improvement of SpareRoom website or of their mobile app functionality.
Type:  Group Concept Project
Duration: 2 weeks
My Role: User Research, User Scenario & User Flow creation, Design Studio
Platform: Mobile App
UX Tools: Screener Survey | User Interviews | Competitive Analysis | Affinity Mapping | User Persona | Empathy Map | Experience Map | User Journey | User Flow | Design Studio | MoSCoW method | Wireframing | Usability Testing
Software Tools: Google Forms |Marvel | Adobe Photoshop | Sketch | Craft | InVision | Keynote
Founded by Rupert Hunt in 2004, SpareRoom is the UK's busiest flatshare website, helping people fill spare rooms as well as finding flatmates.
They would like to improve the search tools that enable hosts to find the most suitable flatmates and vice-versa.
They also want hosts to be able to communicate with the tenants in an efficient way, as well as give them the ability to upload documents and information.
In addition they would like to give the users the opportunity to monitor the progress of their applications.
To develop our solution my team and I followed the double diamond process.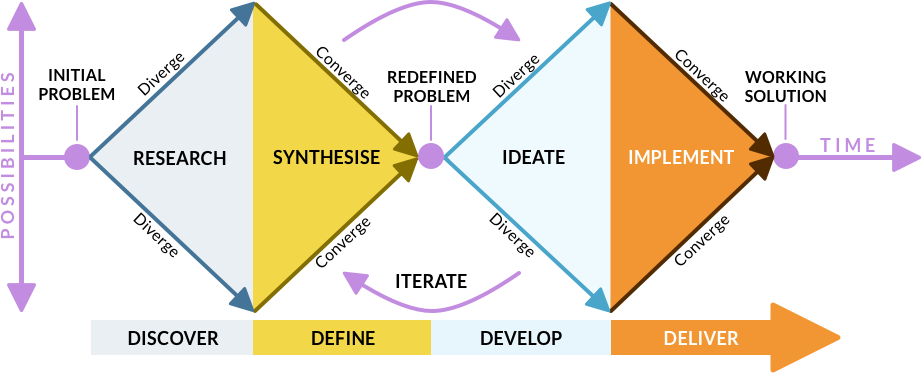 We started with the research, then we synthesised the information obtained through the research phase. Once we had a clear and well-defined problem, we proceeded with the ideation phase and eventually arrived to a working solution through the implementation of our ideas.
Competitive analysis
We took into consideration three of the major competitor websites, Badi, Ideal Flatmate, and GumTree.
We also added a couple of non-direct competitors, Spot A Home and Open Rent and the result is shown in the table below.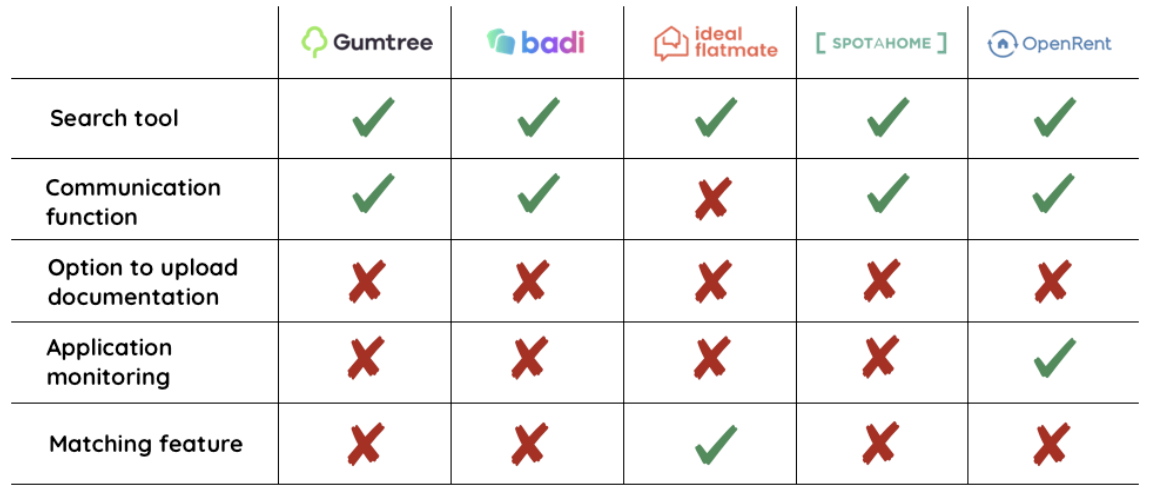 Key findings
Badi — has a very visual, simplified layout for their app which we found visually appealing
Idealflatmate — incorporates a quiz feature to identify potential flatmates — something we wanted to investigate further for SpareRoom
Gumtree — another popular app for advertising and finding rooms, however their visuals are very focused on advertising.
Screener Survey
A screener survey was also posted on the General Assembly Slack Survey Channel.
The questionnaire was answered by 8 participants and helped me and my team to collect information about the potential user base.
The questions that we asked are the following:
Have you ever used SpareRoom before?
Do you currently live in a flat/house share?
Are you a property owner who has rented out your property in the past or is looking to rent out your property?
If you are a tenant, how do you go about finding a flatmate?
How old are you?
The result was the following: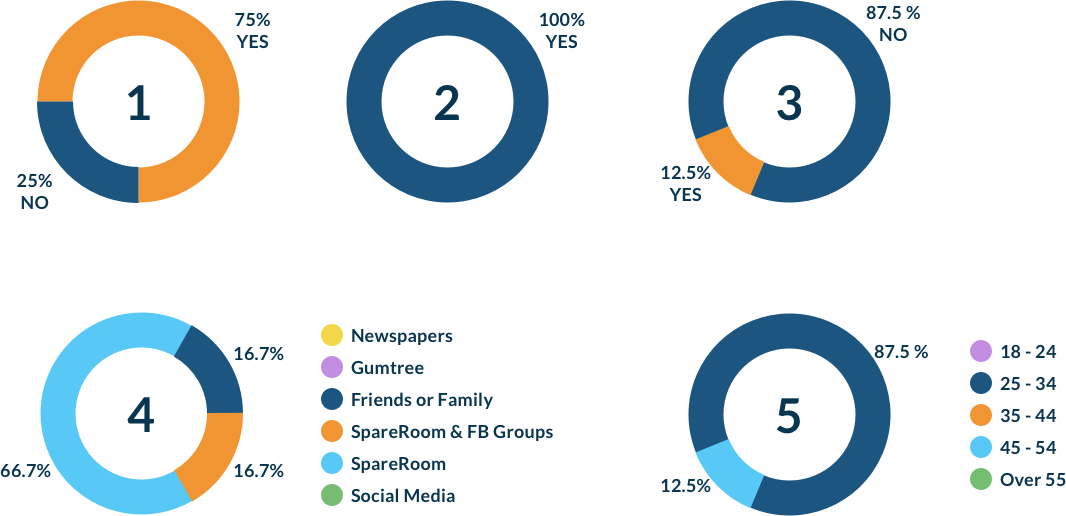 User Interview
To gain a better understanding ofuser frustrations and expectations, in addition to the screening survey I conducted 4 user interviews out of 8 done by the team.
Insights



2. Define: Research Synthesis
Affinity Mapping
The result was then summarised into an affinity map to see trends and patterns.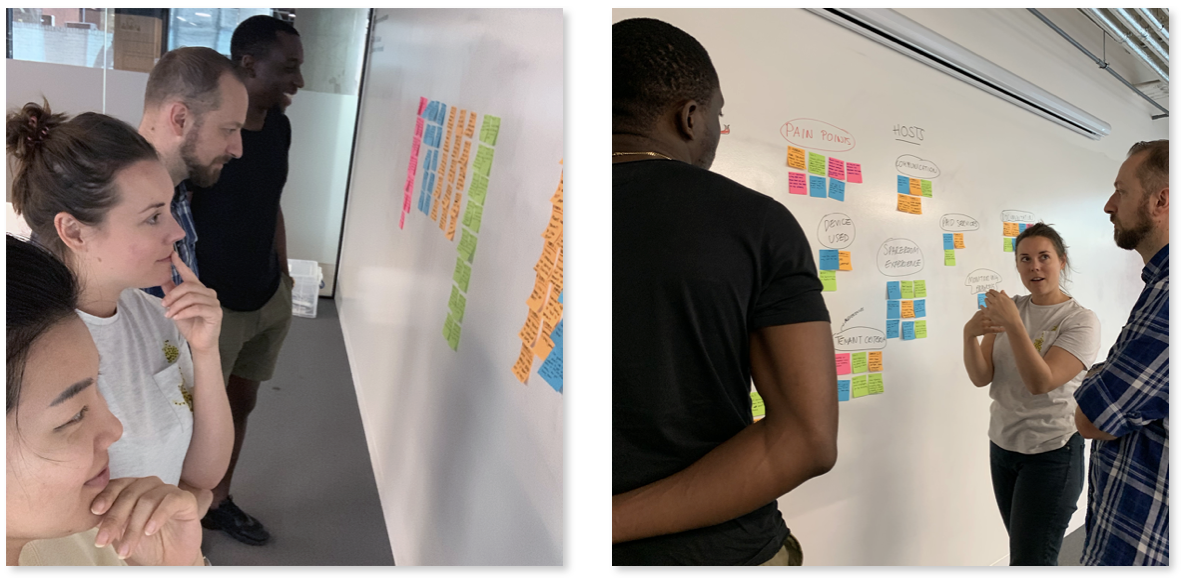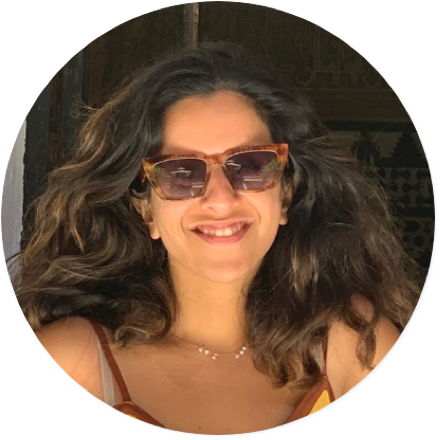 Maya, 28, London, Consultant at a mid sized corporation
Personality
Independent, relaxed, outgoing but sometimes prefers privacy.
Behaviour/habits
Clean, tech savvy and active on social media, responds immediately to messages, slowly getting better at personal financial literacy.
Objectives
Find a nice flatmate to live with
Feel safe and comfortable at home
Live in a convenient location near public transport and a large supermarket
Be able to invite friends over to show off her home
Frustrations
Feeling unsafe going alone to a visit
Bad flatmates
Having to wait too long for replies from landlord
Flats in London becoming unavailable too fast
Empathy Map
In order to gain a deeper insight into Maya's behaviour, an empathy map was also created.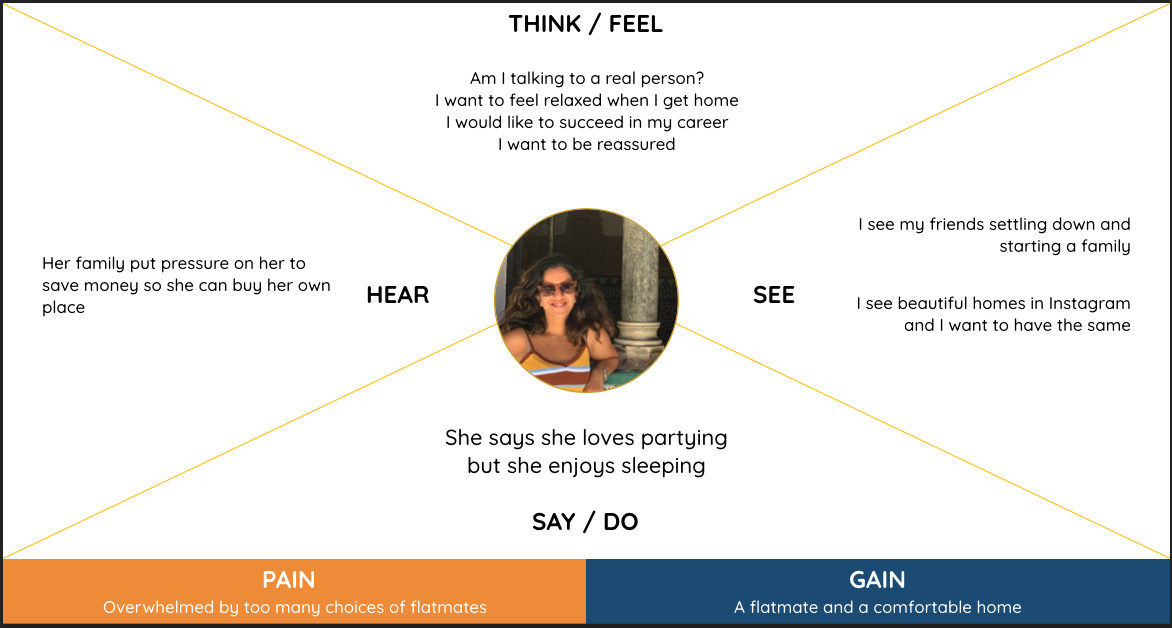 Experience Map
In this phase Maya's journey, her tasks and her emotional state were then translated into an experience map.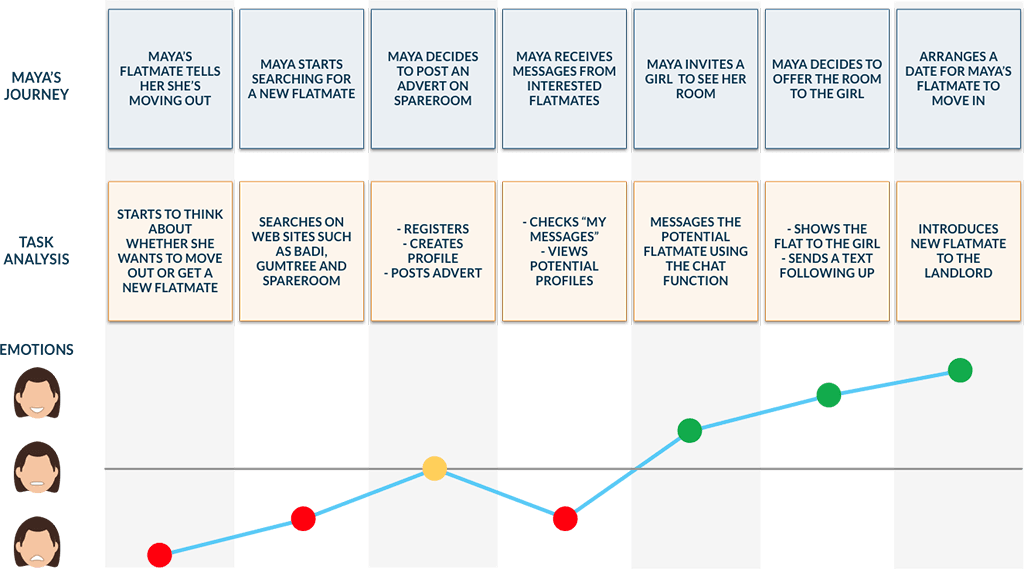 To tackle Maya's problem the following frameworks were defined:
Problem statement
"Maya needs a quick and reliable way to find a flatmate to fill in the second bedroom in her London flat as her flatmate is moving out, and she cannot afford the rent on her own."
Hypothesis
"We believe that by simplifying the search function by providing a flatmate match option, Maya will feel less stressed and overwhelmed in her search for a flatmate. We will know this is true when Maya introduces her landlord to her new flatmate to sign the lease."
Measuring success
"On average it takes now two weeks from the time an ad is posted to the time it gets closed. With our solution we aim to reduce this to less than a week."
Design Studio
To visualise a solution, with my team I did 2 design studio.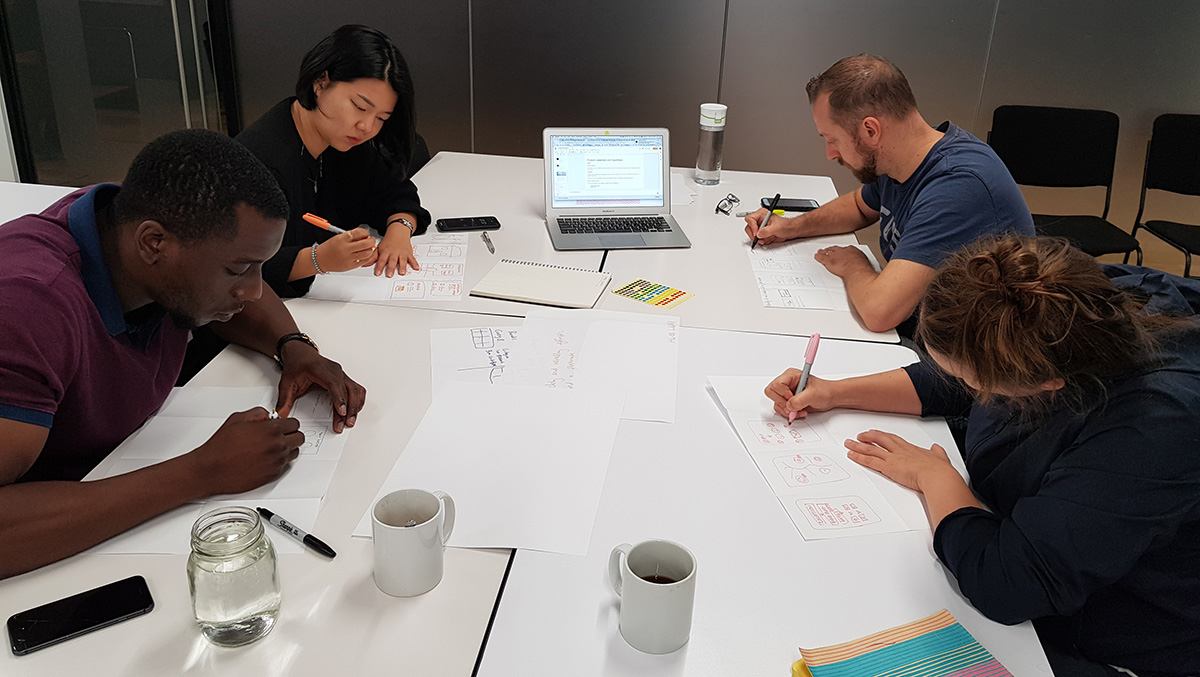 The 2 iterations led us to the possible solution, with the following work to be implemented:
A simple 5-steps flatmate matching quiz to filter user preferences
The existing chat functionality would be improved
User documents uploaded through the chat
A clearer progress monitoring system
User Flow
Based on our solution we then wrote a scenario for Maya, and then we created the user flow:
Maya shares a flat with a friend who has decided to move out with her boyfriend, and she now needs to find a replacement very quickly.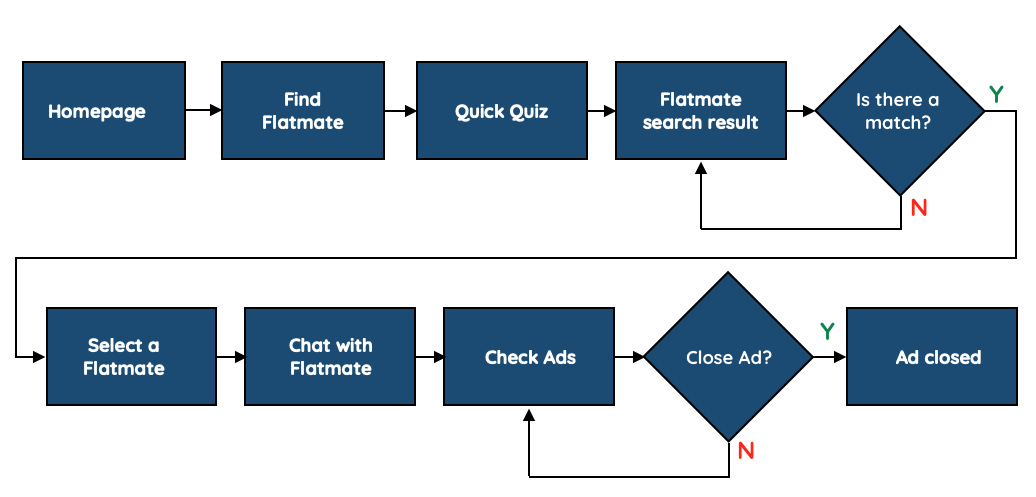 4. Deliver: Ideas Implementation
Paper Prototype Usability Testing
Happy with the result of our ideation phase, my team and I sketched the wireframes to test our solution.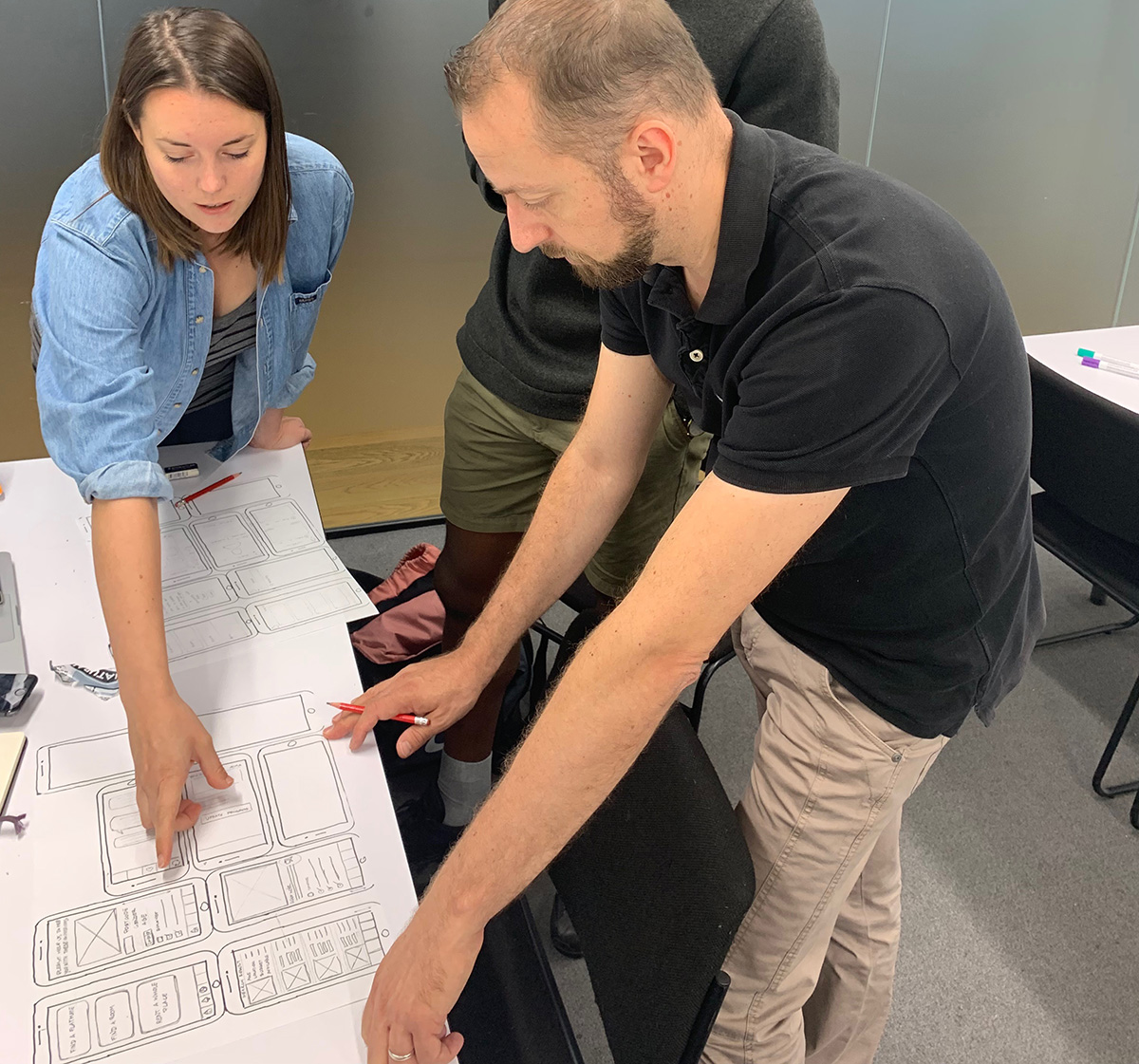 The sketches were then tested with 5 users and iterated twice.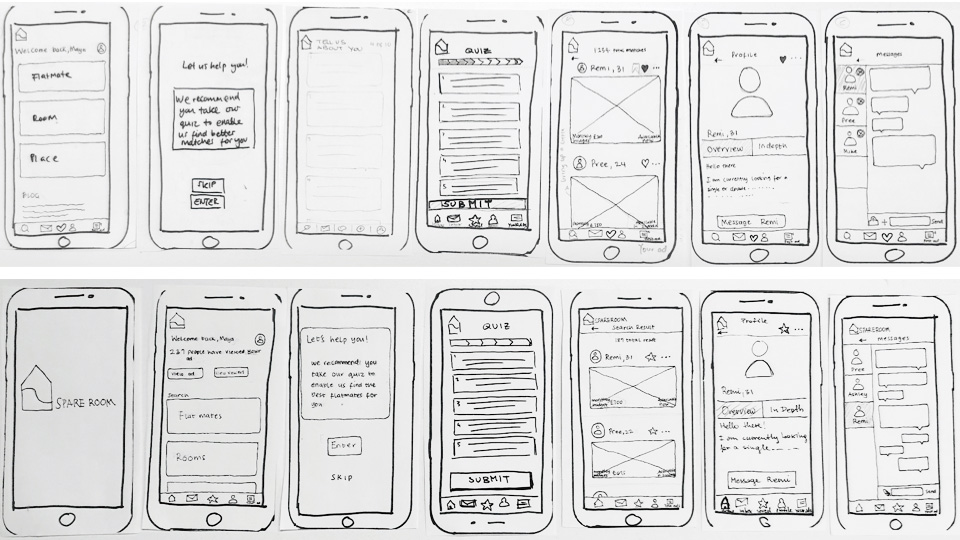 Mid-Fi and Hi-Fi Prototype
With the learnings that we had in the first two iterations we went on to create the Mid-Fi prototypes, which again were tested with 5 more users, until we got to the final Hi-Fi prototype.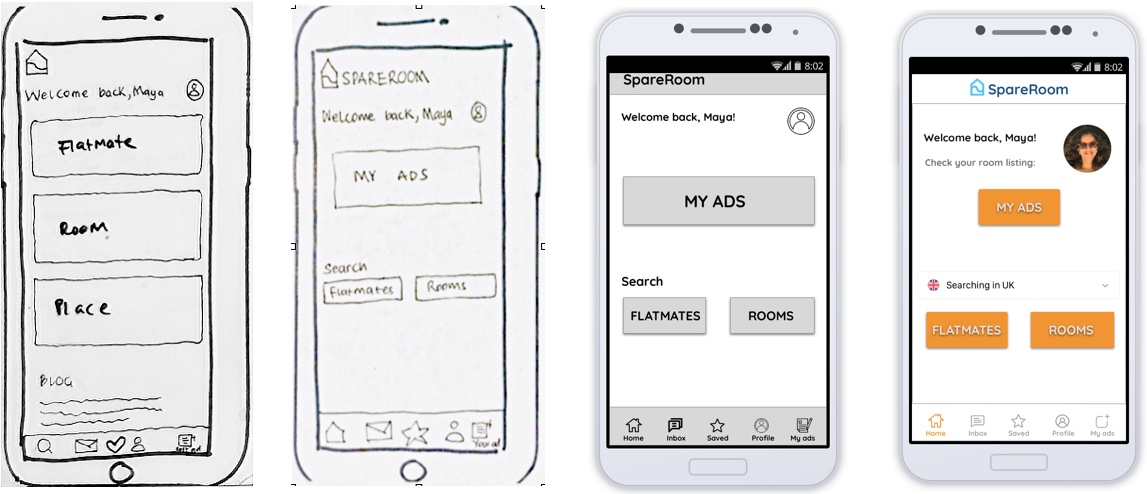 Achievements
The result of my team's effort is that we achieved to resolve all the initial problems, as requested by the brief:
A mobile-first solution was implemented
Flatmate quiz matching to quicken the current flatmate search
A radical improvement to the current chat functionality
Upload of documentation through a trusted and reliable chat system
A new way of monitoring the progress of an advertisement after posting it into the application
Next Steps
A video calling feature could be added to the current chat.
This additional solution could help with the following:
Prevent the risks of fraud by being able to visually verify both tenant and property hosts, as well as the property itself
Increase the accessibility to the platform
Improve the communication channels between tenants and property hosts
This was a very interesting and challenging project to work on. Being a concept design, the brief received was not actually from the company itself and after the first week we discovered that SpareRoom had updated their website. Some of the concepts that my team and I initially incubated for our solution had to be slightly steered.
Working with my team I learnt to overcome different opinions and point of views when it came to ideate a solutions. We proved that it was easy to adapt to a changing situation (outdated brief), and by using an iterative approach we could deliver a viable solution despite this sudden change appeared initially as a major roadblock.
The introduction of the Design Studio workshop was probably the most interesting part of this project. Having the team collaborating creatively and brainstorming new ideas for possible solutions was very engaging!
Do you like what you've seen? Drop me a line on mg.uxdesign@gmail.com!